Installing Jet Sudoku


Jet Sudoku has been tested on:

Window 98
Windows XP
Windows Vista
Windows 7


1). Download
jetsudoku_install.exe
Click
here
if you haven't already downloaded it
(pay attention to the download location on your computer)

2). If installation doesn't begin automatically after downloading it,
find the
jetsudoku_install.exe
on your computer file and double click it.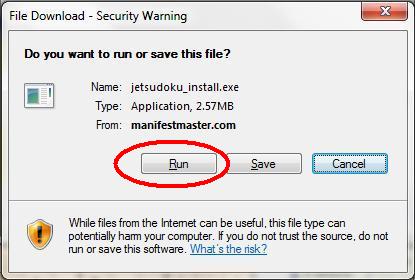 3). This is the first screen you should see. Click

RUN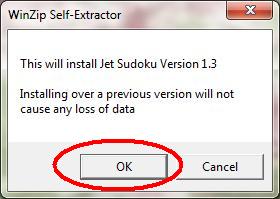 4). Click OK



5). Click

SETUP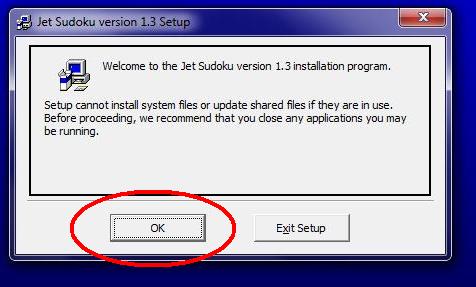 6). Click Ok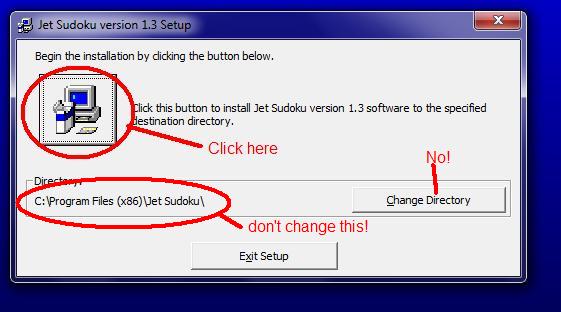 7). This can be a confusing screen. Click the big circled button. It is
recommended
that you

not

the change directory.

If you receive a warning about old files and keeping a newer version, click YES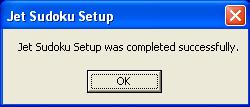 8).

Success!
9).To run Jet Sudoku:
Click

START

Click

ALL PROGRAMS

Click

JET SUDOKU

9). If you'd like to put a shortcut to Jet Sudoku on your desktop, right click on the

Jet Suoku

menu and select CREATE SHORTCUT
Then just drag the shortcut onto the desktop
---



If you have any questions or problems, just me an email at:

jetsudoku@gmail.com

(home)