When you ask for a hint, Jet Sudoku will try each solving technique until it finds one that produces results. You can specify the order in which these techniques are tried using TOOLS / ORDER OF TECHNIQUES
On the ORDER OF TECHNIQUES form, you can click and drag technqiues up and down the list. The puzzle will be solved by using the techniques starting at the top of the list.


This is particularly useful when learning about a particular technqiue. For example, if you want to see many examples of W-Wings, select W-Wing and drag it to the top of the list. Jet Sudoku will look for W-Wings even before naked singles or other simpler techniques.
This is another useful feature when looking for certain solving techniques. First there is an AUTO-SOLVE feature. Just press the F9 key or click the AUTO-SOLVE button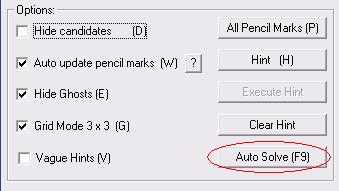 When you click AUTO SOLVE, the puzzle will become animated and flash the solving techniques all the way to the solved puzzle (if possible). Then you can make JET SUDOKU stop when it encounters a certain solving technique. To set the stops, use the TOOLS menu again: